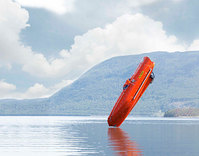 The Johan Castberg field is situated approximately 100 kilometres north of the Snøhvit field in the Barents Sea. Recoverable resources are estimated at 450 to 650 million barrels of oil equivalent. The Johan Castberg development is planned to consist of a large subsea system tied into an FPSO vessel. PALFINGER MARINE has been chosen as the supplier of four Freefall Lifeboat systems of type FF1200. The field is operated by Statoil, with Eni and Petoro as partners.
"We have worked with the owner, design companies and yards since the early start of the Castberg development plan by providing technical data to find the best suitable solutions. It is important to highlight the capabilities of our system, the technical solution and project management expertise that we offered to the yard. We are very glad that Sembcorp Marine found our solution to be the best and placed the contract with us," says Oddgeir Mælen, Sales Manager at PALFINGER MARINE's Lifesaving division.
The hull and living quarters of the Johan Castberg will be built and delivered by Sembcorp Marine (SCM) at the Sembcorp Marine Tuas Boulevard Yard. The scope of delivery comprises of 4 x FF1200 systems, Freefall Lifeboats with RA 1200 davits. The systems are designed and approved for the strict regulations for operation on the Norwegian continental shelf. Delivery is scheduled for the first half of 2019.
"Being awarded the Johan Castberg project is an important milestones for us. We have delivered more than 100 FF1200 systems over the past years, several for ambitious projects, such as recently to Johan Sverdrup. These prestigious orders demand the highest possible quality for products and our entire supply chain. The Castberg project shows that Statoil has high confidence in PALFINGER MARINE equipment and trust in our performance. It proves that the FF1200 and our people involved in carrying out the project are amongst the best in the business," highlights Oddgeir Mælen.