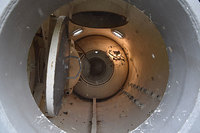 SUITS™ – Shipboard Unmanned Inspection of Tanks Solution – has been developed by Martek Marine Ltd to improve the safety of surveyors and crew members when inspecting tanks, eliminating the need to enter hazardous, confined spaces on board.
SUITS™ combines the latest in enclosed space drone technology and VR software allowing the operator to deliver a collision tolerant drone through the hatch / confined space entry and then remotely control it via a control console and video screen – the full inspection can be carried out from a safe location.
Inspecting a confined space can present the danger of an oxygen-depleted atmosphere or the ingress of another toxic gas allied to the risks of working at height.
"A preliminary survey of MAIIF members reveals that there have been at least 101 enclosed space incidents resulting in 93 deaths and 96 injuries, since the Recommendations were adopted in November 1997", IMO Revision of the Recommendations for Entering Enclosed Spaces Aboard Ship, 17 July 2009.
SUITS™ has been developed by Martek as the latest product to improve ship safety at a time when there is more focus than ever on ship managers fulfilling their ALARP obligations (risks being "as low as reasonably practicable"). Even when procedures are fully followed there still remains a significant risk from gas pockets, sudden ingress from damaged pipework, falls, trip and the dangers of working from height when traditional rope or scaffolding is used for inspection.
"SUITS™ will revolutionise confined space inspection to make operations safer, faster and ultimately cheaper." comments Paul Luen CEO.