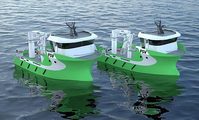 Vard Holdings Limited, one of the major global designers and shipbuilders of specialised vessels, has announced that it has secured contracts for the construction of two freight-and-service vessels for FSV Group in Norway.
The new freight-and-service vessels will be built by Vard Aukra in Norway, scheduled for deliveries in 3Q 2018 and 1Q 2019 respectively. The vessels are newly developed by FSV Group and Solstrand Trading for service and support in the aquaculture industry. The vessels will have a length of 19 metres and a beam of 10 metres.
An operator of specialised vessels for maritime operations, FSV Group was established in 2011 in Molde, Norway. The company has a fleet of 10 specialised vessels and barges for freight and service operations. Aligned with its strategy of strong growth of its fleet for towing, freight, subsea, and fish-farming operations, FSV Group is focused on high competence, multi-purpose vessels, and professional risk management.