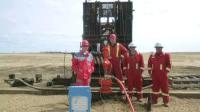 Borets has successfully conducted a North American field trial of its PMM-PCP system, the first permanent magnet motor (PMM) running at a slow speed without a gear reducer to drive a progressing cavity pump.
The PMM-PCP system ran successfully for Crescent Point Energy in Canada from May 2014 until April 2015 where, during this trial period, the system increased the well uptime from 53.4 percent to 98.7 percent, saving Crescent Point substantial workover costs and lost production time.
While previously a conventional induction motor would be run in the well with a mechanical gear reducer to slow the rotating speed of the motor for a progressive cavity pump, PMM motors are equipped with an extremely high power density which makes the motor 40 percent shorter and lighter, greatly improved electrical efficiency (18 percent) and a very flat power factor over a varying load. Additionally, Borets' cutting-edge PMM-PCP system uses a PMM motor without a gear box to operate a downhole submersible motor between 350 and 750 rpm.