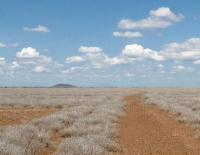 Bowleven says that the Presidential decree regarding the Etinde transaction has now been gazetted. This has satisfied the final outstanding condition of the farm-out process with LUKOIL and NewAge. The transaction is now scheduled to complete within 15 business days, at which point the company will receive the initial cash proceeds of approximately $170 million from LUKOIL and NewAge.
The farm-out transaction was announced on 24 June 2014 and comprises the acquisition of a 30% and additional 10% interest in Etinde by LUKOIL and NewAge, respectively, in return for an aggregate consideration of approximately $250 million. The proceeds comprise: •Approximately $170 million cash at completion (includes $5 million estimated working capital adjustment, subject to finalisation); •Up to $40 million (net) carry for two Etinde appraisal wells; •$15 million cash to be received on completion of appraisal drilling; and •$25 million cash contingent upon and to be received at Etinde development project FID.
Bowleven will retain a 20% interest in Etinde and operatorship transfers to NewAge.