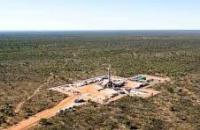 Buru Energy is about to start one of the biggest exploration programs in the Company's history, targeting numerous conventional oil prospects in the Canning Basin in Western Australia's northwest.
The wells will range from semi-appraisal wells to highly leveraged exploration prospects. Two rigs have been contracted to ensure the program is able to be carried out in the 2015 dry season, with four wells targeting prospects on the Ungani trend. More details of these wells are set out below.
Buru Energy has taken a revolutionary approach to the drilling program taking advantage of technologies developed for large scale programs on the east coast of Australia and in the USA. This approach includes controlling the Company's cost exposure through the use of fixed price contracts which is expected to reduce costs to less than half those of previous drilling campaigns.
The drilling campaign will also coincide with the start of commercial oil production at Ungani, where agreements were recently finalised with the three Native Title groups.