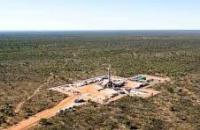 Buru Energy advises that its extensive 2015 exploration drilling program has commenced with the spudding of the Olympic 1 conventional oil well located southeast of Broome in Western Australia.
The well, which is being drilled with DDH1 Rig 31, has a programmed total depth of 1,450m and is expected to take some 30 days to drill.
Olympic 1 is the second well to be drilled as part of the Apache Onshore Holdings Pty Ltd (Apache) farm out announced in November 2013. The cost of the well will be fully funded by Apache under the terms of the farmout which includes a commitment by Apache to fund a $25 million exploration program on EP 390, 438, 471 and 473.
The Olympic 1 well is located in exploration permit EP 473 and the drilling of the well will satisfy the Year 4 work commitment on that permit.