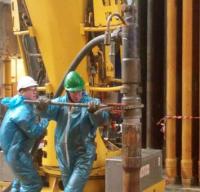 Cairn Energy has appointed two new independent non-executive directors, Keith Lough and Peter Kallos, to the Board of Cairn Energy PLC.
Keith Lough will be appointed immediately following the Company's AGM on 14 May 2015 and Peter Kallos will be appointed with effect from 1 September 2015. Keith Lough will join the Company's audit, nomination and governance committees and Peter Kallos will join the remuneration and nomination committees.
It is intended that Todd Hunt will retire from the Board as a non-executive director following the Company's 2016 AGM.
Keith Lough graduated from the University of Edinburgh in 1981 with a degree in Economics and completed a graduate training programme at British Gas, where he qualified as a chartered certified accountant in 1985. He subsequently obtained an MSc in Finance from London Business School. Keith held a number of senior finance and operational positions at LASMO PLC. During his career at LASMO Keith was part of the leadership team that completed numerous transactions and a major business transformation before later joining British Energy PLC as Finance Director, a post he held from 2001 to 2004. During his tenure at British Energy, Keith led the complex restructuring negotiations with the Government and its creditors.