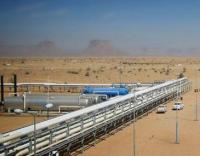 Calvalley Petroleum Inc. provides the following operations update for shareholders.
Late in the evening on May 7, 2014 the oil pipeline between Block 18 and the Ras Isa Terminal on the Red Sea was ruptured in two locations. On May 8, 2014, the operator of Block 18 indicated that no further shipments of crude oil would be accepted from Calvalley until the pipeline was repaired.
At the time of the rupture, crude oil inventories at the Company's central processing facility ("CPF") were reduced to normal operating levels, leaving storage capacity available for approximately 10 days production. Since the rupture on May 7, 2014, the pipeline operator has been unable to repair the pipeline due to local constraints.