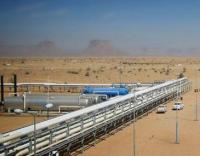 Calvalley Petroleum Inc. announces the results of its December 31, 2013 reserves evaluation.
The reserve evaluation was conducted by McDaniel & Associates Consultants Ltd. who prepared an independent engineering evaluation of the reserves attributable to the Company's 50% working interest in Block 9 in a report dated February 26, 2013 with an effective date of December 31, 2013 (the "McDaniel Report") in accordance with National Instrument 51 101 Standards of Disclosure for Oil and Gas Activities ("NI 51-101") and the Canadian Oil and Gas Evaluation Handbook ("COGE Handbook").
Drilling activity in 2013 included the drilling of four new prospects, Ras Nowmah South, Ras Nowmah North, Sueda and Al Hedba plateau. Ras Nowmah South was completed and put on production during the year. The level of drilling activity was restricted by security and local issues during 2013.