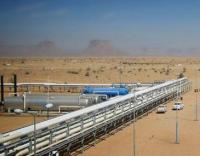 Calvalley Petroleum Inc. provides the following update for shareholders.
The Company has been restoring production activities as crude oil storage capacity is made available. From mid-February, when the facilities at Block 18 were refurbished, to March 31, 2014 the Company has shipped over 170,000 barrels of crude oil (gross) to Block 18. The Company continues to monitor the accessibility of the truck route to Block 51 in order to resume shipments via this route as soon as it is possible to do so.
Production activity restarted in mid-February with average gross production for February of approximately 530 barrels per day. Gross production levels increased significantly in March and are currently in the 3,800- 4,000 barrels per day range. Gross production for the first quarter of 2014 is approximately 1,100 barrels per day with average gross production in March reaching over 3,700 barrels per day.