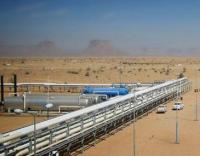 Calvalley Petroleum Inc. provides the following operations update for shareholders.
The Company is pleased to announce that production operations at Block 9 are being resumed as storage capacity at the central processing unit (CPF) becomes available.
The Company has been informed by the operator of Block 18 that the oil pipeline between Block 18 and the Ras Isa Terminal on the Red Sea has been repaired. Trucking of crude oil to Block 18 was reinstated effective May 31, 2014.