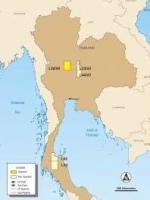 Carnarvon Petroleum Limited is pleased to provide shareholders with the following update in relation to the L44/43 and L33/43 Concessions in Thailand, in which Carnarvon holds a 40% interest.
As of 15 November 2013 the rig is on site and rig up is in the last steps of completion and inspection, with spudding of the first well planned to commence in the next few days.
The first well in this campaign is the WBEXT-2BST2 sidetrack well, a deviated appraisal/development well in the WBEXT area, being updip from an existing oil production well.
The primary objective for the WBEXT-2BST2 is to test the productive igneous V2 reservoir. This reservoir is estimated to be 50 m thick at the target location.
The well is targeting a location in the same reservoir as the recently completed WBEXT-2C well, which initially flowed up to 400 bbls per day of oil and 1,000 bbls per day of water. This well has produced over 15,500 bbls of oil to date at continued high water cut.