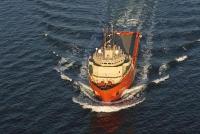 Cathelco are supplying seawater pipework anti-fouling systems for a series of eight platform supply vessels (PSVs) which are being built by the Remontowa Shipbuilding yard in Gdansk.
Four of the 92.65 metre PSVs are already in service for Edison Chouest Offshore, the leading American suppliers of marine transportation to the offshore oil industry.
The vessels are some of the largest in their class with deck areas of 1050 square metres enabling high volume goods to be transported.
The Cathelco systems on board the Bongo, Kudu, Sable and Oryx will protect the seawater lines against blockages caused by the growth of barnacles and mussels. This will involve the installation of copper and ferrous anodes in the forward and aft strainers which are wired to a control panel.