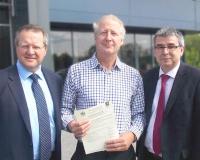 Cathelco have received IMO Type Approval for their ballast water treatment system which is based on a combination of filtration and UV technology.
This has been achieved after 5 years of research and development followed by rigorous testing on land and sea.
Although Cathelco have served the marine industry for more than 50 years and are widely known for their seawater pipework anti-fouling and ICCP hull corrosion protection systems, they have waited until now to enter the BWT market.