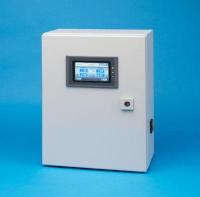 Cathelco have introduced a new series of Quantum control panels for their sea water pipework anti-fouling systems and impressed current cathodic protection (ICCP) systems.
The new panels provide numerous benefits, but the most significant breakthrough is the ease with which the systems can be controlled and monitored. This is combined with much more comprehensive information about system performance.
The main principle behind the design of the new control panels is greater connectivity. They produce an RS485 signal which enables the systems to be governed from a more convenient location such as a control room or the ship's bridge computers.