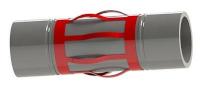 Centek is launching its Inter Casing Centralizer Sub (ICCS), designed to be run as part of a tight tolerance casing string in deepwater, ultra-narrow annulus applications.
Centek and Halliburton collaborated in developing the ICCS. The body of the centralizer sub is machined to Centek and Halliburton's exacting standards. Centek's patented UROS (Under Reamed Offset Bow) centralizer technology is installed on the sub body by Halliburton in a process that complies with the toughest quality control standards. The sub body, manufactured to API 5CT requirements, meets or exceeds all burst, collapse and tensile ratings. The UROS centralizer gives optimum restoring performance with minimal starting and running forces when passing through the tightest restrictions.
The centralizer is designed and manufactured with minimal clearance to the casing, and with a precisely formed cross bow curvature so that there are no "knife edges" (common among standard bow spring centralizers) which reduces the risk of subsea well head damage. Crucially, during operation the centralizer can recess completely into the sub body and so pass through the tightest of restrictions while protecting the bows from damage.