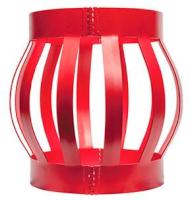 Centek Group is introducing the Centek S2 Hinged Centralizer for use offshore when top of hole centralization with oversized casing connectors is required.
In applications where quick casing connectors are used, slip-on bow spring centralizers cannot be fitted because the unions stand proud of the casing and a hinged centralizer is necessary. Each half of Centek's new hinged centralizer is made from a single piece of hardened, high grade steel. The new design does not compromise on centralizer performance with a joint strength of up to 3.5 tonnes which is unparalleled in the industry. The Centek S2 Hinged Centralizer has the strongest hinge of any latch-on centralizer with specially designed spiral pins that reduce installation time and can be fitted to casing on the drilling platform or at the pipe yard.
Vertical installation is simple, by first fitting the hinged stop collar to the casing, followed by wrapping the two hinged halves around the casing and closing the other hinge. Pins require an insertion load of 220kg helping to preclude pin disengagement on run in hole, and as a further failsafe the pin cannot disengage because of the narrow gap between centralizer and stop collar.