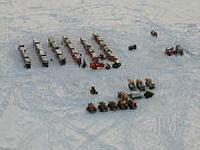 CGG and Sovcomflot, Russia's largest energy shipping company, have signed an agreement to form a joint venture company dedicated to conducting high-end 3D marine seismic acquisition services with a focus on Arctic and sub-Arctic waters.
The joint venture, to be called Arctic Geophysical Exploration (AGE), will be 51 per cent owned by Sovcomflot and 49 per cent owned by CGG. The company will be incorporated in Russia with its headquarters in Moscow. Under the terms of the agreement, CGG will charter a fourteen-streamer ice-class vessel while Sovcomflot will add the capabilities of an eight-streamer ice-class vessel.
The primary aim of the joint venture company is to offer world-class 3D marine seismic acquisition services to operators during the Arctic navigation season. In addition, the new company will offer its highly advanced vessel capabilities to the international market for the remainder of the year while benefiting from access to the most advanced seismic technologies from CGG's worldwide operational and technical support.