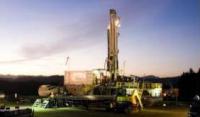 Comet Ridge Limited reported that the Mahalo Field pilot was brought on-line late last week and closely monitored over the weekend, with one of the wells immediately flowing gas. Well performance will continue to be monitored over the next few weeks with detailed tracking of water and gas rates from the wells as they stabilise.
Comet Ridge Managing Director, Tor McCaul, said that he was pleased that the Mahalo Field pilot scheme was now operational and he was very encouraged that a gas flow was recorded from one of the four wells as it came on-line.
The objective of this pilot scheme, is to lift water from the coal seam, which reduces the pressure in the area around the wells, and allows gas to desorb from the coal and flow to the well. Ultimately the aim of the pilot is that one or more of the wells will produce gas at commercial rates which will allow gas resources to be converted to gas reserves.