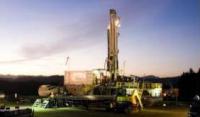 Comet Ridge Limited provided an operational update on the progress of the Mahalo 7 horizontal surface to in-seam well project in Australia. This well was drilled during the fourth quarter of 2014 in the ATP 337P Mahalo Block in Queensland's Bowen Basin.
The Mahalo 7 surface to in-seam horizontal well was positioned inside the existing vertical pilot wells. It was drilled past the Mahalo 3 vertical well, on a path to intersect the down dip Mahalo 6 vertical well. Mahalo 6 is currently being utilized as the production well to lift the water and gas from the Mahalo 7 horizontal well.
The coal reservoir is at a depth of approximately 754 feet (230 meters) with a coal seam thickness of approximately 26 feet (8 meters). Gas and water production from the horizontal well section in Mahalo 7 is currently reaching surface via the vertical intercept well, Mahalo 6 with the Mahalo 7 wellhead currently shut-in.