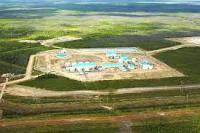 Connacher Oil and Gas Limited announces its year-end reserves as of December 31, 2013, as evaluated by GLJ Petroleum Consultants Ltd. (GLJ), independent qualified reserves evaluators.
Proved producing reserves increased by 13 per cent to 22.5 million barrels with the inclusion of the recently drilled infill wells and well pairs at Pod One. Production in 2013 totaled 4.3 million barrels.
Estimated proved (1P) bitumen reserves totaled approximately 212 million barrels, a decrease of one per cent over year-end 2012 volumes. The ten per cent present value (10% PV) of 1P bitumen reserves is approximately $900 million as compared to $1.0 billion in 2012.