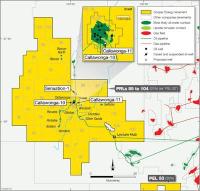 Cooper Energy Limited reports that Callawonga-11, an oil appraisal well in PPL 220 on the western flank of the Cooper Basin, South Australia, is to be cased and suspended after reaching a total depth of 1,733 metres in the Hutton Sandstone.
Callawonga-11 was the second of a three-well drilling campaign targeting the Namur Sandstone.
After the completion of wireline logging operations a gross oil column of 4.3 metres is interpreted in the McKinlay Member and Namur Sandstone primary targets at Callawonga-11.
Callawonga-11 was a step-out well drilled 670 metres southeast from the Callawonga-9 production well to appraise a structural extension to the southern flank of the Callawonga field.