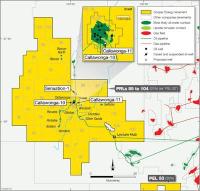 Cooper Energy Limited reports that Callawonga-11, an oil appraisal well located in PPL 220 on the western flank of the Cooper Basin, South Australia, spudded on Wednesday 6 May 2015 at 04:00 hours. At 06:00 hours this morning, the rig was drilling ahead at 51 metres in 12-1/4 inch surface hole.
Interpretation of the recent NMC3D seismic survey identified the possibility of a potentially large structural extension to the southern flank of the Callawonga field. Callawonga-11 is a step-out well being drilled 670 metres south-east of the Callawonga-9 production well to appraise this upside potential. If the upside structural model is confirmed, there is potential for a significant increase of the estimated reserves in the Callawonga field.
The Birkhead Formation and Hutton Sandstone are secondary targets of Callawonga-11. Windmill-1 (2.9 km southeast) recovered 25 barrels of oil on drill stem test (DST) of the Birkhead Formation, and oil shows were observed in Shelly-1 (1.9 km southwest).
Callawonga-11 is expected to take 7 - 10 days. Following Callawonga-11, the EDA Rig 930 will move 3 km north to drill Sensation-1, an oil exploration well in PRL 98 (refer map following) to conclude the drilling campaign.
Cooper Energy holds a 25% interest in PPL 220, with the balance held by the Operator, Beach Energy Limited.