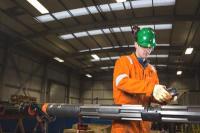 Engineered servicing company for wellbore clean up and abandonment, Coretrax, has successfully completed an extensive three year decommissioning contract with global operator Hess Corporation for the first designated abandonment campaign of its kind. The project began in 2012, involving 30 well abandonments at the FFFA and IVRR fields in the UK North Sea.
As part of this abandonment campaign, Coretrax successfully ran 45 bridge plugs and cement retainers, including some with a drillable brush. Due to extensive section milling operations required on the project, Coretrax provided its BOP cleaning and swarf recovery string to remove swarf from ram cavities and protect the blow out preventer (BOP). In some cases up to 40kgs of swarf was recovered per run.
John Fraser, global business development director of Coretrax, said: "At a time when decommissioning is climbing the agenda within the oil and gas industry, we really valued the opportunity to be part of this successful collaboration with Hess and its contracted partners.