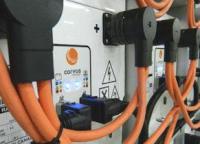 Corvus Energy is pleased to announce its participation at the 2015 Flexible Marine Power & Propulsion Conference (FMPPS), Oslo, which will showcase the latest technologies for hybrid and electrical marine power and propulsion with 40+ expert speakers presenting their strategies for managing onboard energy and reducing emissions.
Halvard Hauso Corvus EVP Sales and Marketing will be speaking with Christian Kämmerer of Lloyd's Register reviewing a case study, "Texelstroom: the unique hybrid ferry" which explains the new technologies employed in the design of what some are calling the most "green/sustainable" passenger/car ferry in the world.
The ferry is being built for Dutch operator TESO and will run between Texel Island and the Holland mainland. Texelstroom, a new generation vessel, will carry 1750 passengers and 350 vehicles, powered by bio-diesel or CNG with a 1.6 Mega-Watt hour Corvus Energy lithium energy storage system (ESS) as part of the vessel's advanced energy management system.