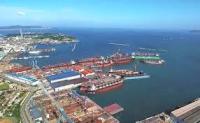 Cosco Corporation (Singapore) Ltd. says that Cosco (Guangdong) Shipyard Co., Ltd. (Cosco Guangdong), a subsidiary of the Company's 51 percent owned Cosco Shipyard Group Co., Ltd., has delivered a platform supply vessel, "VOS PACE", to its European buyer.
The delivery documents were signed by and between Cosco Guangdong and the buyer recently.
The vessel measures 273.9 feet (83.48 meters) in LOA (length of all), 59 feet (18 meters) in breadth and 26.2 feet (8 meters) in depth.
Earlier on Friday, Cosco announced that a shipyard, which is a subsidiary of Cosco Shipyard has delivered a Platform Supply Vessel as follow: •Cosco (Zhoushan) Shipyard Co., Ltd. ◦Delivery of a Platform Supply Vessel, "Sunrise 1" to its buyer from Asia. The vessel measures 274.8 feet (83.75 meters) in LOA (length of all), 59 feet (18 meters) in breadth and 22.9 feet (7 meters) in depth