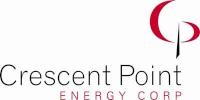 Crescent Point Energy Corp. has declared its capital expenditures plans for 2016.
Crescent Point expects to spend between $950 million and $1.3 billion to target an annual average production range of 165,000 boe/d to 172,000 boe/d in 2016.
This represents an average production increase of approximately one to five percent compared to 2015 guidance and a decrease in planned capital expenditures of approximately 16 to 39 percent versus 2015 estimates.