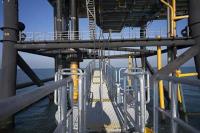 Damen Shipyards Group has teamed up with the motion compensation access solution provider Ampelmann to conduct tests with Ampelmann's L-Type system on board a Damen Fast Crew Supplier (FCS) 5009. Damen is developing its marine access solutions in order to guarantee increased safety, reduced costs and efficiency in the global crew transfer market. As part of this mission, Damen has recently increased its cooperation with a number of access suppliers. On this occasion, the process has resulted in a live demonstration of a combined Ampelmann and Damen solution at a North Sea gas production platform.
Teaming up with Ampelmann for a number of tests was a natural route says Damen Business Development Manager David Stibbe: "We're talking to a number of transfer specialists as we continue to develop our marine access portfolio. Ampelmann has extensive expertise in producing and operating motion compensation access systems and Damen has many years of shipbuilding experience. Working together in this way means that both parties are able to draw on the expertise of the other, leading to the favourable development of their respective solutions and successfully integrated crew change solutions."
The L-type is the smallest of Ampelmann's systems, ideally suited for smaller crew vessels ranging from 30-50m without DP. The model combines safe and efficient transfer with a capability for reliable operation up to 1.5 metre Hs. Such a profile seemed to suggest a compatibility with the Damen FCS 5009. Together, Damen and Ampelmann carried out extensive research and testing to see if the two were indeed well-matched.
"We invested in a lot of research before sailing, and it transpired that the FCS 5009 and the L-type were the perfect fit." explains Stibbe. "Once on the water we carried out in-depth interaction tests to demonstrate just how well the system and the vessel worked in tandem. The results were impressive."
"The operator was convinced by the extensive data we were able to present and allowed us to make a landing at a working North Sea platform, thus proving the effectiveness of this solution in a real-world scenario. This represents a very promising solution for an oil and gas industry looking to address efficiency and safety concerns in personnel transportation. Our tests demonstrated that the L-type could be added to an existing vessel from the Damen portfolio to provide safe, cost effective transport offshore – a credible substitute for swing-roping and helicopter flights."
"Ampelmann has already transferred more than 2.5 million people safely worldwide for the top oil majors, mainly supporting maintenance, hook-up, commissioning and shutdown campaigns with Walk-to-Work and floatel services. Now these clients are looking for a solution in the crew change segment to improve safety and effectiveness relative to current helicopter, swing rope, surfer or baskets transfers. However, they are not only interested in the gangway, they are in search of a proven integrated solution of vessel with gangway and that is what we have produced together with Damen", says Ampelmann Business Development Manager Crew Change Gerbrand Marbus.