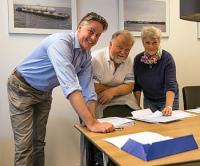 Norwegian maritime transport company Skyssbåtservice has taken delivery of a Stan Pontoon 4512 from the Damen Shipyards Group. The 45-metre barge will be capable of fulfilling a variety of roles in both the general maritime transport sector projects and the oil and gas industry.
As well as carrying general cargo along the Norwegian coast on its 12 tonnes per m2 deck, the barge is fitted with a bow ramp giving it full RoRo capability. Tug stoppers on the stern also allow it to be pushed as well as towed to its destinations.
Skyssbåtservice's new Stan Pontoon 4512 is additionally classified as a fuel oil barge. Its double hull, covering both its bottom and sides, protects the six internal tanks capable of carrying a total of 540 m3. An encased manifold is fitted on deck. This capability will also make the barge eligible for inclusion in the permanent pool of vessels that supports Norway's coastal oil contingency plan.
The barge will join four other vessels in the fleet operated by Skyssbåtservice. Established in 1983, the company has developed a niche from its base at Vestre Åmøy on the south west corner of Norway's coastline. Particular areas of expertise include supporting construction projects in or alongside the sea, as well as servicing oil and gas installations. The new barge will add valuable capacity in the transport and storage of heavy machinery, including vehicles.
"We are certain that the Damen 4512 barge will prove to be a valuable and versatile addition to the Skyssbåtservice fleet," says Remko Hottentot, Sales Manager Norway for Damen. "The combination of a strong stable platform and substantial tank capacity fits in well with Skyssbåtservice's multifunction, full service business model. Our barges are built to give many years of trouble-free service, and our staff and facilities at Damen Shipyards Stavanger, just a short distance from Vestre Åmøy, are always available to provide any support necessary."