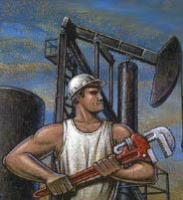 Deep Well Oil & Gas, Inc. is pleased to announce a production update of our joint Steam Assisted Gravity Drainage project located in the Peace River oil sands area of Alberta, Canada.
Our SAGD Project production rate at the end of 11 months exceeded the average rate forecasted for the first year by 76% of the 'Proved Plus Probable' production type curve projection as determined by DeGolyer and MacNaughton Canada Limited as reported in our September 30, 2014 reserves report.
Production type curves are theoretical forecasts of reservoir performance and are used by qualified reserves evaluators, to predict and forecast, but not limited to, reservoir production rates and cash flows that have not yet been observed in a certain reservoir field. This 'Proved Plus Probable' estimate is just as likely to be high as it could be low, therefore DeGolyer's 'Proved Plus Probable' estimate is 'right in the middle' of expected estimates of type curve projections.