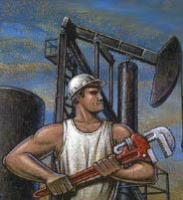 Deep Well Oil & Gas, Inc. announce that its joint venture partner as operator of the Steam Assisted Gravity Drainage Demonstration Project (the "SAGD Project") has commenced drilling the first of two horizontal wells for its jointly owned SAGD Project.
This well will be drilled to a vertical depth of approximately 650 metres with a horizontal leg of approximate 750 metres targeting the Sawn Lake Bluesky reservoir zone. Once this first horizontal well is drilled it is anticipated that the operator will immediately drill the second horizontal well of the first SAGD well pair for the SAGD Project.
Deep Well previously announced that it had served notice of election to participate in the SAGD Demonstration Project planned by its joint venture partner and operator of the SAGD Project. This SAGD Project is on our jointly owned lands located at 7- 30-91-12W5 where Deep Well has a 25% working interest (Post Farmout).