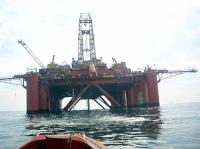 Det norske oljeselskap ASA, as operator of production license 553, has completed the drilling of wildcat well 34/7-36 S T2. The well was drilled on the Kvitvola prospect about 5 km west of the Visund Field by the Borgland Dolphin drilling rig.
The purpose of the well was to prove petroleum in upper Jurassic, Draupne sandstones. A secondary target was the underlying Brent Group. The well encountered no reservoir in the Draupne Formation and thus no hydrocarbons were proven. The secondary target was also dry.
34/7-36 S T2 is the first exploration well in production license 553, awarded in the APA 2009. The well was drilled to a vertical depth of 3,639 meters below sea level (3,690 meters MDRKB). The water depth is 304 meters. The well will now be permanently plugged and abandoned.