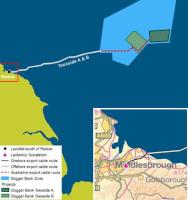 Today's planning approval for offshore wind energy at Dogger Bank takes the total of consented projects in the North Sea zone to 4.8 gigawatts (GW), almost equal to all the offshore wind capacity now in operation in the UK.
The consented development, Dogger Bank Teesside A&B is part of the Dogger Bank Zone, the largest of the Round 3 zones and the farthest from shore, but also one of the shallowest, with high wind speeds and seabed conditions ideally suited to offshore wind development.
The consent is offshore wind consortium Forewind's second approval following that of Dogger Bank Creyke Beck in February. Both consented developments have a proposed installed capacity of 2.4GW making them the equal largest renewable energy applications ever to be approved in the UK, and together the world's biggest planned offshore wind scheme.