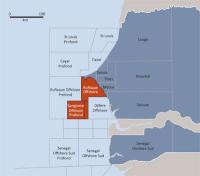 FAR Ltd. has resumed drilling on the FAN-1 well offshore Senegal.
FAR had previously announced a modification to the Senegal drilling programme in order to incorporate essential maintenance. FAR holds 15% and is in a Joint Venture with Cairn (40%) and Operator, ConocoPhillips (35%) and Petrosen (10%).
Drilling to date on FAN-1 has reached a depth of approximately 3,000 metres.
The well is planned to be drilled to a depth of approximately 5,300 metres.