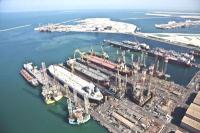 Drydocks World has won the ISO 3834-2: 2005 certificate for quality requirements on fusion welding of metallic materials. This certificate validates Drydocks World's capabilities in line with international welding standards and criteria, ensuring proper monitoring, documenting, testing and supervision of the welding process. The terms of service required in relation to welding have been met through compliance with rules, conditions and requirements.
The ISO 3834-2: 2005 pledges that the implementation of welding operations are being carried out correctly and accurately through the development of welding procedures. The certification guarantees the evaluation and qualification of welders, which plays an important role in cutting costs and erasing any deficiencies in the welding equipment. Further, the certification aids employees in identifying their tasks accurately, enhancing their technical skills in order to provide high-quality services in line with customer requirements.
Drydocks World winning the ISO 3834-2: 2005 is a result of the yards relentless efforts to improve the quality of services provided to the marine and maritime industries, consistent with the highest international standards. Drydocks World has gained widespread recognition on various local, regional and international levels, which has led the organization towards achieving a prestigious reputation in quality management efficiency.