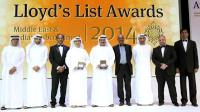 Drydocks World sectors has received the Lloyd's List Shipyard of the year Award.
This award recognizes a shipyard and shipbuilders that has consistently met the needs of its customers in these times of tight capacity. Entries were judged based on the ability of the yard to offer cost effective and quality services while keeping a keen eye on safety. For shipbuilders, criteria include the on time delivery of quality vessels that cater to buyer requirements and showcase innovative designs while adhering to high environmental standards.
Drydocks World has been awarded for its ability to innovate, for groundbreaking technology, design and service across all sectors which led to a meaningful advance for the shipping industry. The award was open to all sectors and Drydocks World demonstrated superlative services in the shipping industry in terms of technological innovation, environmental standards and cost effective high quality services.