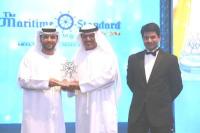 Drydocks World has received the Shipyard/Ship Repair Facility of the Year and the Technology/Innovation Awards for the Modular Capture Vessels(MCV's) project at the Maritime Standard Awards.
The winners were announced at a prestigious awards ceremony on November 6th 2014 at the Atlantis hotel in Dubai. The awards sought out best-in-class organizations, projects, employee safety milestones, goals and safety awareness in the workplace.
Organizationsthat arecommitted to making safety a significant part of their business strategy and use innovative ideas to encourage and engage staff in workplace safety were recognized. Held under the patronage of His Highness Sheikh Ahmed bin Saeed Al Maktoum, President, Dubai Civil Aviation Authority and Chairman and Chief Executive, Emirates Airline and Group.
The awards are one of the most prestigious events of the year and was attended by His Highness Sheikh Ahmed bin Saeed Al Maktoum, and many leading personalities in the maritime industries and presented by the celebrated journalist, broadcaster and PR guru, Alastair Campbell, as Master of Ceremonies.