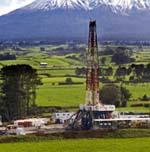 East West Petroleum Corp. provides the following update on its operations in the Taranaki Basin of New Zealand. TAG Oil Ltd. is the operator and co-owner of all of the Company's licenses in New Zealand.
PEP 54877: Cheal North East Permit (70% TAG Oil / 30% East West)
Following recompletion in the Mt. Messenger formation, a 15 day flow test of the Cheal-E2 well was completed where the well flowed naturally at an average rate of over 100 boepd (73% oil) for a total of approximately 1,465 boe during the test. The well will now undergo pressure and temperature analysis and be placed on permanent production to the Cheal E-site production facilities.
The Cheal-E1, E5 and E6 wells continue to produce at steady rates of approximately 330 boepd (76% oil) net to East West with little decline to date. The Cheal-E4 well is temporarily shut in awaiting completion of the gas pipeline from the Cheal E-site. This pipeline is expected to be completed and commence operations in mid-2015 and will immediately increase East West's revenue with gas sales to the New Zealand market.