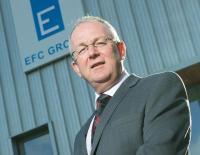 EFC Group has announced it is one year ahead of schedule for reaching its 2016 turnover target of £30million.
The Aberdeen-based company has reported 12 month sales orders for year-end December 2014 of £40million, a growth of 130% on 2013's £17.3million sales total.
EFC Group's subsea solutions division has experienced the highest demand, resulting from the development of API monogrammed BOP Control systems and latest application control system technology for Managed Pressure Drilling (MPD).
This area has increased more than tenfold from the previous year, creating a multi-million pound business unit working with five leading industry players in this sector. Brand engineering for major OEM and service companies has also significantly contributed to EFC Group's growth in sales orders.