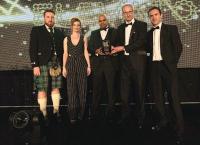 EFC Group has won the 'Business Success Over Three Years' category at the Elevator Awards 2015.
Previously entitled The Grampian Awards for Business Excellence, the Elevator Awards were relaunched this year. Winners were announced at a black tie ceremony at the Mercure Aberdeen Ardoe House Hotel and Spa on Thursday, 25 June 2015.
The award win comes in recognition of EFC Group's strong growth and record sales figures over nearly three decades of business. In February, the Group announced that it was one year ahead of schedule for reaching its 2016 turnover target of £30million.
CEO of EFC Group, Bob Will, said: "I am delighted that the business achievements of EFC Group have been recognised by the local business community. Our success in this year's Elevator Awards is directly attributable to the hard work and dedication of the whole EFC team.