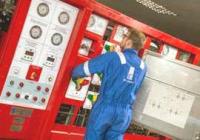 Aberdeen-headquartered EFC Group has been awarded multiple multi-million dollar contracts by major oilfield services company, Weatherford, marking continued success in the US since the Group set up its Houston base in 1995.
As a designer and manufacturer of controls, handling and instrumentation systems for the global oil and gas drilling industry, EFC Group has developed a long-term relationship with Weatherford, leading to multiple contract awards for Managed Pressure Drilling equipment supply to support the Weatherford Secure Drilling® services business.
These significant contract wins include the design and supply of direct hydraulic controls, hydraulic power units, choke, flow metering and buffer manifolds as well as integrated reelers, umbilicals, hoses & stab plates.
EFC Group CEO Bob Will said: "These are major contract wins for EFC Group and we have been proud to support Weatherford as a preferred vendor in this area and as they develop their MPD Deepwater Excellence Initiative. In the midst of a challenging time for the oil and gas drilling industry, MPD is bucking the trend as it continues to be an area of growth, and EFC Group is globally recognised for our 4 year track record and niche experience in this domain. We are delighted to continue this successful partnership with Weatherford, and build on our commitment to safety as we strive to exceed expectations."