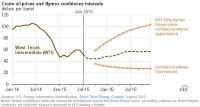 Amid high uncertainty in the global oil market, EIA has lowered crude oil price forecasts in the Short-Term Energy Outlook (STEO), expecting West Texas Intermediate (WTI) crude oil prices to average $49 per barrel (b) in 2015 and $54/b in 2016, $6/b and $8/b lower than forecast in last month's STEO, respectively. Concerns over the pace of economic growth in emerging markets, continuing (albeit slowing) supply growth, increases in global liquids inventories, and the possibility of increasing volumes of Iranian crude oil entering the market contributed to the changed forecast.
Since the beginning of 2015, North Sea Brent has traded about $5/b more than WTI, and EIA expects this $5/b price spread to persist at least through 2016. As gasoline prices tend to follow Brent crude oil prices, retail gasoline prices are expected to remain relatively low. EIA's updated projection remains subject to significant uncertainties: the pace and volume at which Iranian oil reenters the market, the strength of oil consumption growth, and the responsiveness of non-OPEC production to low oil prices.
WTI futures contracts for November 2015 delivery, traded during the five-day period ending August 6, averaged $47/b. As detailed in the August Market Prices and Uncertainty Report, current values of futures and options contracts continue to suggest high uncertainty in the crude oil price outlook. These values established the lower and upper limits of the 95% confidence interval for the market's expectations of monthly average WTI prices in November 2015 at $34/b and $64/b, respectively. The 95% confidence interval for market expectations widens over time, with lower and upper limits of $27/b and $103/b for prices in December 2016. Implied volatility now averages 37%, more than double the implied volatility average this time last year (16%).