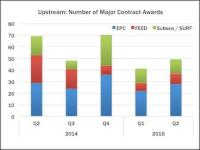 The number of major contract awards across the global oil and gas industry continued to decline during the last quarter (Q2: Apr-Jun 2015), dropping to 100, a 17% decrease compared to 120 in Q1 2015, and a 39% decrease from 165 contract awards in Q2 2014, according to the EIC Monitor quarterly report from the Energy Industries Council (EIC).
Upstream contracting activity in Q2 2015
In Q2 2015, a total of 49 major contracts (Engineering Procurement & Construction (EPC), Front End Engineering Design (FEED) and Subsea/Subsea, Umbilicals, Risers & Flowlines (SURF)) were awarded across 37 upstream developments, rising 20% from 41 awards in Q1 2015, but decreasing 71% from 69 contract awards in Q2 2014. A total of 28 EPC contracts, 9 FEED contracts and 12 Subsea/SURF contracts were awarded.
EPC Activity
Brazil and Norway have been hotspots of activity in Q2 2015, together accounting for 13 EPC contracts across 10 different upstream developments. In Brazil, a total of eight EPC contracts have been awarded, five of which have been awarded to a joint venture between Asian firms BJC Heavy Industries and Cosco Shipyard Group to build a total of 24 floating, production, storage & offloading (FPSO) compression modules. The contracts are for four modules for the P-66 FPSO, earmarked for deployment on the Lulu Sul Field Development; four modules for the P-68 FPSO (Lulu Extremo Sul/Sul de Lula Field Development); four modules for the P-69 FPSO (Lulu Oeste Field Development); eight modules for the P-70 and P-71 FPSOs (Berbigilo, Sururu and Atapu West Oil Fields); and four modules for the P-67 FPSO (Lulu Norte Field Development).
A further two contracts have been awarded to another Asian firm, China Offshore Oil Engineering Company (COOEC) for the fabrication of equipment and integration on the Lulu Norte and Berbigilo, Sururu and Atapu West Oil Fields. The remaining contract is for EPC work on the BT-PN-8 Gavião Branco onshore gas field in Maranhão state, operated by Parnaiba Gas Natural, where a consortium of Fluor, Construcap CCPS Engenharia e Comércio and CFPS Engenharia e Projetos have been appointed to carry out the EPC work for a 300 MMcf/d gas gathering system and 40km pipeline.