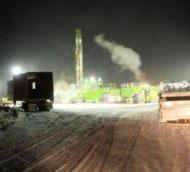 Octagon 88 Resources (OCTX) has received confirmation from the operator that a total depth of 498m was reached on the Elkton Erosional edge vertical well on October 13, 2013. The well is currently being logged to provide the Company with the most accurate analysis available.
Core samples have been successfully taken from the Elkton erosional edge well DH 9-4-92-23-W5 and are presently being transported to AGAT laboratories for core sample analysis.
The operator was pleased to report that the core samples extracted from the horizontal target zone was oozing oil from out of the core at surface.
As mentioned in the POD (Plan Of Development), the lower portion of the vertical Elkton well will now be cemented; upon concluding this stage the horizontal leg of the production well will be kicked off at the 160m level.