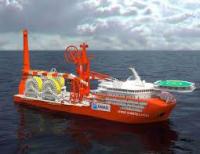 EMAS Offshore Limited has secured a contract valued at more than US$30 million, including options.
This contract is part of a larger project awarded to EMAS AMC, the Subsea Services division of Ezra Holdings Limited for the charter of multiple vessels to an oil major in West Africa, and was awarded following a competitive tender process.
Under the job scope, four of EMAS Offshore's marine vessels, including an Accommodation Barge, PSV and AHTSes, will be chartered to EMAS AMC, to provide accommodation, anchor handling, towing, supplying and other support services. In addition, it allows EMAS Offshore to participate in a major Maintenance, Modifications and Operations (MMO) project. The average contract duration for the contract is approximately 1.3 years (including options) and work is expected to commence in the fourth quarter of FY2015.