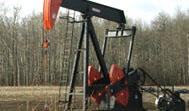 Emerald Bay Energy Inc. provide an update on recent activities in Texas.
At Wooden Horse, the Company recently completed the Kuhn 2 vertical well in the "A" interval of the Edwards formation.
The well was tied into facilities and after four days of pumping the well started to produce the anticipated oil cut. The well has now been producing for four weeks. Kuhn 2 is the second well completed in Edwards formation at Wooden Horse, but it is the first well completed in the "A" interval.