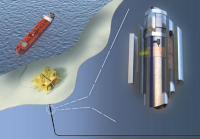 Emerson Process Management announced the successful first deployment of its Roxar Downhole Wireless PT Sensor System. The new instrument has been deployed as part of the completion on Statoil's Skuld field in the Norwegian North Sea, where it is measuring online and in real-time pressure and temperature information from behind the casing in the subsea production well.
The result for Statoil will be a tool for well integrity monitoring and offshore safety as well as adherence to Norwegian legal requirements to monitor pressure in the B annulus behind the well casing.
"Operators such as Statoil will now have the information they need to make informed decisions on the integrity of the well casing, thereby improving control over their production operations," said Terje Baustad, product manager – downhole for Emerson Process Management.
"Statoil took the initiative towards Emerson to develop technology for B-annulus monitoring on subsea wells. Statoil is pleased with the successful installation and expect to have the Emerson technology qualified to TRL7, Proven technology by early April 2014," said Hilde Brandanger Haga, leading engineering – well integrity, Statoil ASA.