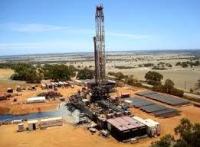 Empire Oil & Gas NL provided the following update for the Red Gully North-1 (RGN-1) exploration well in EP 389 in Western Australia's Perth Basin. Progress
The drilling operations are progressing efficiently and ahead of plan. The 12.25 inch (311 millimeter) hole has been successfully drilled to the casing point at 11,017 feet (3,358 meters).
As at 0600 hours WST Dec. 1 at RGN-1 a wiper trip was being performed in the hole prior to running the casing.