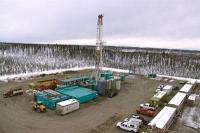 Encana Corporation says that its wholly-owned subsidiary, Encana Oil & Gas (USA) Inc., has reached an agreement to sell its Haynesville natural gas assets, located in northern Louisiana, to GEP Haynesville, LLC, a joint venture formed by GeoSouthern Haynesville, LP and funds managed by GSO Capital Partners LP.
Total cash consideration to Encana under the transaction is US$850 million. In addition, through the transfer of current and future obligations, Encana will reduce its gathering and midstream commitments, which will be substantially complete through 2020, by approximately US$480 million on an undiscounted basis. Further, Encana will transport and market GeoSouthern's Haynesville production on a fee for service basis for the next five years.
Encana will use the total cash consideration to reduce its net debt, further strengthening its balance sheet.